When was the last time you saw a 17-foot hearse with a 100-pound dead termite on top?
We thought so.
Introducing the Sentricon system Deader Than Dead Tour — an interactive road show making its way across the country to support efforts in helping homeowners annihilate termites. Whether you see us on the road, in your town or simply as a huge dead termite shadow on the horizon, you can rest assured the No. 1 brand in termite protection is on a mission to put termites in their place and keep them there.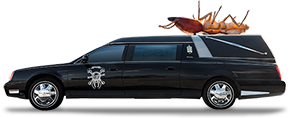 Cayce, South Carolina:

March 16

Home Pest Control

Metairie, Louisiana:

March 20

Terminix Service Company

Mobile, Alabama:

March 22

Arrow Exterminators

Lubbock, Texas:

March 29

D's Pest Control

Manhattan, Kansas:

April 4

American Pest Management

Cincinnati, Ohio:

April 10

Scherzinger Pest Control
We showed up, and so did you.
We heard how cool it was to take a selfie with a 7-foot dead termite. Check out what else we heard.
Termite 101 (pay attention — we may quiz you when we get there.)
The more you know about these devastating eating machines, the more you'll want to flag down our Coroner's Caddy to come over to your house.
---
The science behind how we got so far ahead.
The Sentricon termite baiting system is scientifically designed to eliminate the entire termite colony in three easy steps.
Termite bait system stations are installed around your home by a Certified Sentricon Specialist™.
Termites constantly search for food, and when they do, they eat the bait and share it with the rest of the colony.
All termites die, including the queen — the source of the problem.
The Sentricon system has protected more than 4 million homes, with the live bait system acting as a protective ring around your biggest investment, your home.
The Sentricon® system is different from all other options, as it provide total colony elimination. The Sentricon baiting system doesn't require structural drilling, digging or trenching, and it is environmentally responsible. Liquid treatments seek to block termites from the home, but installation can be disruptive to your property and lifestyle.
Sentricon System
Liquid Treatments

(Termidor, Premise, Altriset)

Scientific studies documenting colony elimination
60
< 5
Eliminate the termite queen
Routinely
Occasionally
Treatment is minimally to non-disruptive to home, lawn and landscaping
Routinely
Occasionally
Treatment effectiveness does not degrade over time
Tangible and visible evidence of protection
Notifies/informs of future termite activity
No label restrictions around water sources and wells
Treatment is removable
Use these questions to better understand your termite treatment options:
Do you offer free home inspections?
What kind of pests could be in my home?
What steps should I take to prevent pest damage?
Are termites a threat in my neighborhood?
What's the best long-term solution to protect my home from termites?
How frequently will a pest control specialist come to my house?
Only a pest management professional can accurately diagnose your pest and termite control needs.
Termite Obituaries.
The thickest section of The Termite Times.
Put an end to endless damage. Reach out to a Certified Sentricon Specialist™ today.