Welcome to the Load Stability Academy site!
Dow and ITENE are looking forward to welcoming you for a day dedicated to load stability and how to move goods safely.
October 24th – Networking Dinner
To get inspired for the event and meet the other participants, we invite you to join us for dinner on October 24th at the emblematic and beautiful resort, Las Arenas. The XIX century building is now a hotel and the location by the beach could not be more inviting for a late afternoon drink (19:00). Local specialties will be served during our dinner as we let the stress of the day fly by.
October 25th - An Engaging Program:
We will hear from experts about the new road transportation norms & legislations and how they are impacting our industry. We will discuss solutions to help you comply with norms and improve load stability, while preventing waste, saving costs, benefiting CO2 emissions' reduction and contributing to reaching sustainability targets.
We will get insights on new industry trends and have a panel discussion covering topics that are relevant to you.
And because "seeing is believing", we invite you to join the cargo stability demonstration, life at ITENE's transportation simulation center. You will be impressed by the force an industrial film needs to sustain when a truck is speeding, slowing down and breaking. The two real cases we will present, one of which developed in collaboration with Mahou San Miguel, will for sure inspire your future projects. You will see first-hand how cost effective and resource efficient solutions, empowered by Dow technologies, can become a reality.
Space is limited, so please register now! We look forward to seeing you in Valencia!
If you are unable to attend and would like to avoid future messages concerning the event, please let us know by submitting this form.
Event Location



October 24th Dinner
Las Arenas Resort
Eugenia Viñes, 22-24
46011 Valencia

+34 963 120 600,
Website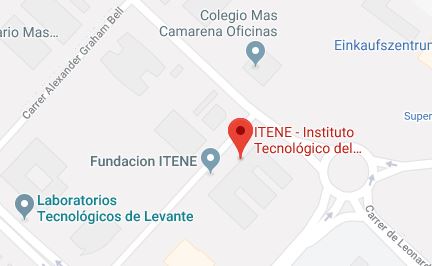 October 25th
Venue: ITENE
Instituto Tecnológico del Embalaje,
Transporte y Logística.

C/ Albert Einstein, 1,


Travel
Accommodation and transportation are the responsibility of the participant.
• The main and nearest airport to the event location is Valencia. Alternatively, participants can fly to Alicante Airport and then reach Valencia by car or train.

• The ITENE site is approximately 10 km drive from the airport and 15 km from Valencia City Center.
• Taxi fare from airport - Hotel Las Arenas around 30E.
• Taxi fare airport - city center around 22E.


Accommodation
Accommodation and transportation are the responsibility of the participant.
We recommend you book your hotel as soon as possible. Valencia is a popular destination and hotels are almost fully booked throughout the year and other events may be taking place during the same week.
Hotel Suggestions
• Las Arenas.(Calle Eugenia Viñes, 22-24, 46011 Valencia)
We recommend staying at this hotel as this is where our dinner on Oct 24th will take place, which will save you a couple of taxi transfers. Transportation from Las Arenas to the venue location (ITENE) on Oct 25th will be made available.
• Ayre Hotel Astoria.(Plaza de Rodrigo Botet, 5 - 46002 Valencia) - Hotel in city center.


Event Registration
Please confirm your attendance at our events by clicking on the registration button.
October 24th
Dinner at the emblematic and historic resort, Las Arenas. The XIX century building is now a hotel and the location by the beach could not be more inviting for a late afternoon drink (19:00). Local specialities will be served during our dinner as we let the stress of the day fly by.




October 25th




9:00 Registration & Welcome

9:30 Market Trends & Industry Dynamics

Insights on trends that are shaping our industry landscape and influencing the economy; hear about how collaboration and innovation are crucial to support your business growth. Presentation by Romain Cazenave, Marketing Director, Dow

9:45 Norms & Legislations

Hear from our special guest, Ana Blanco (subdirectora at the Direccion General de Trafico Madrid) all about the new EU road transportation norms & legislations, and how these are impacting the packaging value chain, from raw material and film suppliers to Brand Owners. Discuss solutions to help you comply with norms and improve load stability, while preventing waste, saving costs, benefiting CO2 emissions' reduction and contributing to reaching sustainability targets.

10:15 Break

10:45 Cargo Stability Demonstration & Real Case Studies

We will bring Load Stability to life at the Transport Simulation Center! See first-hand the performance two of standard and high performance films, explained in detail by Patricia Navarro, Head of Packaging Optimization and Transport Simulation at ITENE. The two real case study we will share , of which one developed in collaboration with Mahou San Miguel. will inspire your future projects and demonstrate how cost effective and resource efficient solutions in transportation packaging can be achieved in the various segments of the films industry: Collation Shrink, Stretch Wrap, Stretch Hood and Heavy Duty Shipping Bags.

12:45 Networking lunch

14:00 Panel Discussion on Industry Needs & Requirements for Load Safety Stability

Supply chain representatives will share their perspectives on the current and future requirements for load safety and stability, but also address your questions and discuss topics that are relevant to you.

Panelists:

Ana Blanco – subdirectora Direccion General de Trafico Madrid, Spain

Antonio Manrique - Industrial &Consumer Packaging Application Technology Leader, Dow

Alberto Tellechea - Director General, Safe Load Testing Technologies

Xavier Castell - Senior Area Manager for Spain, ROBOPAC

Sergio Barral Guillermo - Head of Packaging and Supplier Approval, Mahou San Miguel

Moderator:

Angel David Hernandez, President of EUMOS association

14:40 Q&A Session with panelists

14:55 Event Closing Remarks